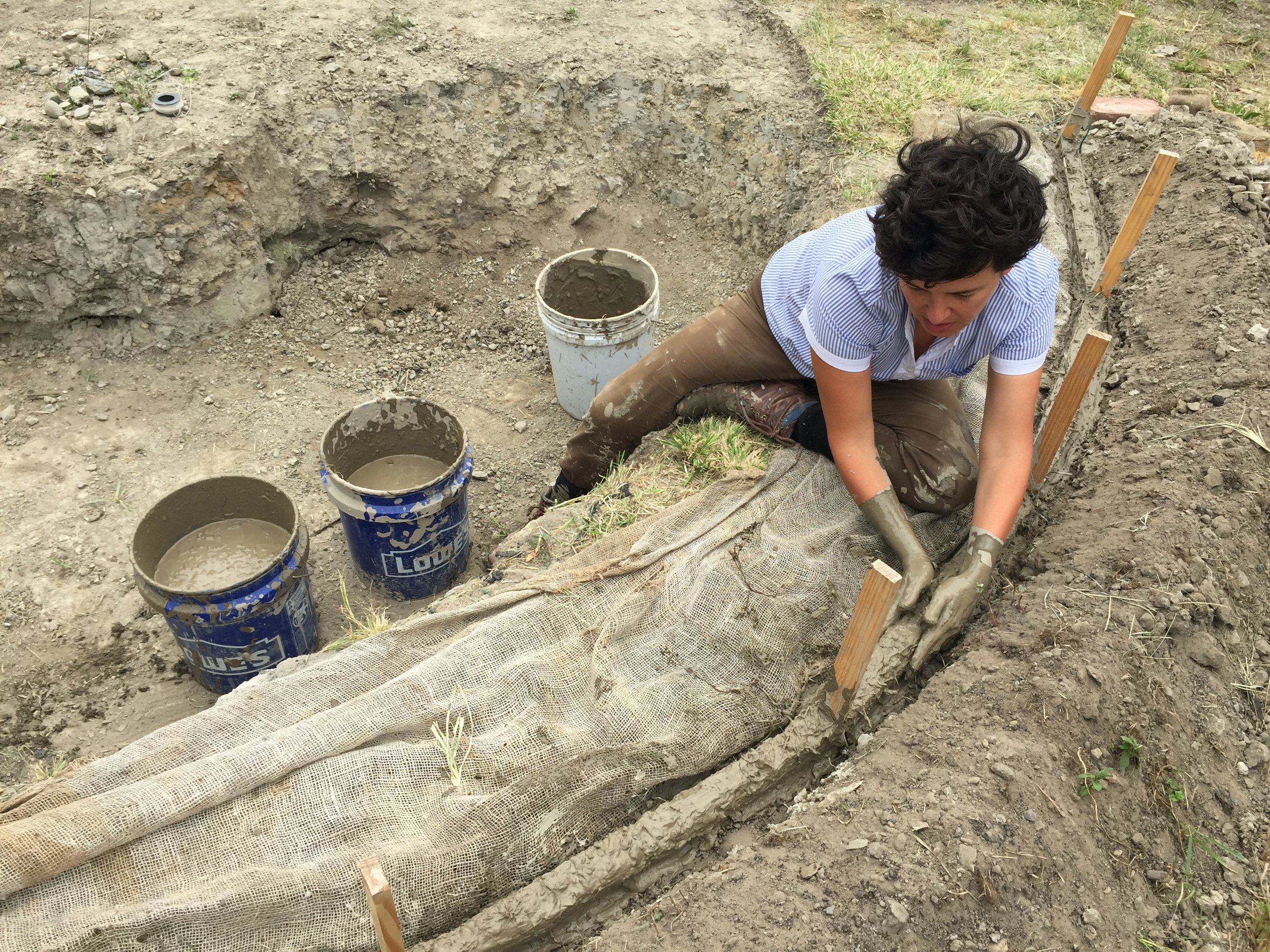 BiO
—on land and place identity
Brazilian artist with an Architecture degree whose artistic research focuses on land identity. Starting with her hometown, São Paulo, she has worked to understand how contemporary landscapes, city tissue and its monuments (mis)represent the diverse layers of presence that constitute a place.
Since arriving in the U.S. she has worked closer with the land, creating space for grounding and exploring the stories and symbols that can unite us.
She performed investigative walks in São Paulo as part of her first solo show at CAIXA Cultural and in the ancestral drylands of Bahia while in residency at the Sacatar Institute (2014).
In 2015, together with four other female artist she did a residency and installation at Oficinal Cultural Oswald de Andrade blurring the notions of authorship.
From 2013-2017, she ran the art-space
.Aurora
, locate at São Paulo's historical center, promoting public activities. The group won 3 state prizes for Independent Art Spaces.
Looking for ancient trails in the U.S. led her to work with the sacred geography of New Mexico for her site-specific installations at Pecos National Park (2016). In 2017, she constructed a permanent earth-work at Burnside Farm (Detroit), creating a 'navel' for the land. In the spring of 2018, she began working with Tewa Women United, a group of indigenous women from Northern New Mexico, as part of Santa Fe Art Institute's Equal Justice Residency.
As a
resident at AnnexB
, a Brazilian initiative in New York, she is responsible for promoting a series of gatherings with fellow 'Latinas' engaging the city with art, culture, immigration and the ideas of home, land and identity.
Beyond her studio practice, she participates in collaborative projects across the Americas connecting art, education and autonomous thinking. She is currently a teaching artist at Escuelita en Casa and Dia:Beacon, and has her first public sculpture on view part of the
Monument Now show at Socrates Sculpture Park
in New York.
Bel Falleiros lives and works in New York.
news
—past, future and ongoing
- Vermelho como Brasil [As Red as Brazil] at the
37th Panorama of Brazilian Art: Under the Ashes, Embers
. July 2022 to January 2023 at MAM São Paulo, Brazil.
-
To Ripple with Water
at The Border Project, May-June 2021, New York.
- Recipient of the
More Art Engaging Artist 2021 Fellowship
for public art and socially-engaged practice.
-
Shifitting Sands
group show at Chashama (togetber with the NYFA IAP cohort), May 2021, New York.
- 2020 Fellow at
Socrates Sculpture Park
to construct a site specific sculpture for the show
Monuments Now
, (opening in October) in Queens, New York.
-
Subversive Kin
show at
The Clemente
, March-April 2020, New York.
- 2020
NYFA Immigrant Art Program
in Brooklyn, New York.
- Teaching Artist at
Dia:Beacon
program for public schools in Beacon, NY. Some of the
exercises
were shared on the institution's blog for kids and families to find homes in art during the quarantine.
-September to October at
Marilia Razuk Gallery
, São Paulo.
-June to August on view at the Mexic-Art Museum in Austin, Texas, part of the
Young Latinx Artis 24 show BUEN VIVIR / VIVIR BIEN
.
–May/Jun 2019 in residency at
Obras Portugal
, Évora-Monte, Portugal
–May-Jun 2019 Onview at the
Fondazione Fabrica de Ciocolatto
in Switzerland.
–March 2019 participated on the
Spring Break Art Show
, in New York.
–January/February 2019 resident at
Massapê Projetos
, an artist-run space in São Paulo. There a new
performance
and site specific installation was presented, alongside with a public talk, in dialogue with the curator J
ulie Dumont/The Bridge Project.
–September 2018 resident at Governors Island, New York, part of the
Works on Water
and
Underwater New York
initiative.
–Summer 2018 resident at
AnnexB
, New York, promoting a series of gatherings
Manas Americanas
with fellow
Latinx Womxn
working with social and cultural issues (ongoing).
–
Equal Justice Residency at SFAI
, Santa Fe, New Mexico, working in collaboration with
Tewa Women United
.
–2017 Resident at
Burnside Farm Detroit
working on earth work permanent installation. To visit it, please book
here.
–2017 to 2021: On view at the Contemporary Art Center Cincinnati with the project
Library of Love
, by the artist
Sandra Cinto
.
–ongoing-2013: Founder of the
.Aurora
art space in São Paulo, promoting shows, open calls, walks, workshops, talks, screenings and other activities that expands the notions of the arts.
–2014: Residency at
Sacatar Institute
, Itaparica, Bahia, Brazil, with a
CCSP
grant.
–Solo show at Caixa Cultural São Paulo, with a federal government prize, to develop a research on São Paulo ancestral landscape, and the artist own place reference and identity.